"short, sharp, sardonic commentaries on the climate crisis… anarchic and funny "

– The Times
The Scorched Earth Trilogy has received an Ivor Novello Award nomination for Best Stage Work!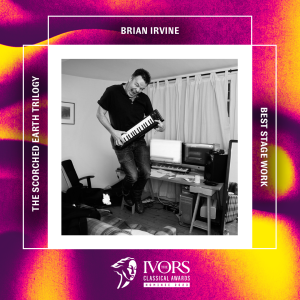 The Scorched Earth Trilogy is a trio of satirical films inspired by environmental disaster and the lack of serious climate action. The short works tackle some of our most pressing concerns with coruscating humour and wit using a highly original mix of street art, animation, contemporary orchestral music and opera in their search for answers. The films challenge our complacency and provoke both entertaining and uncomfortable responses.
The Scorched Earth Trilogy features projected video and sound installation experienced through your headphones with the audio transmitted by Isolde, a groundbreaking new mobile app.
Isolde is developed by Irish National Opera in consultation with Dumbworld and funded as part of the Next Stage Initiative from Fedora and Opera Europa.
Join the conversation with #ScorchedEarthTrilogy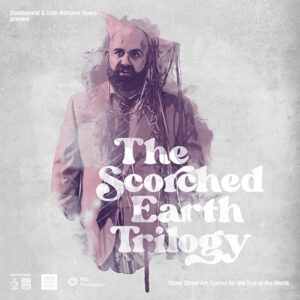 TRICKLE DOWN ECONOMICS
"As long as we don't treat the climate crisis like a crisis, we can have as many conferences as we want, but it will just be negotiations, empty words, loopholes and greenwash." Greta Thunberg
Welcome to a pissing contest at Davos.  Swollen by champagne and self congratulations, a gang of suited politicians relieve themselves against a wall expounding on their successful resolutions while drawing out economic models on the wall in front of them as young boys do in fresh snow. Their liquid economic theories trickle down the wall stretching out as a toxic sea on which float the boats of refugees they have created.
---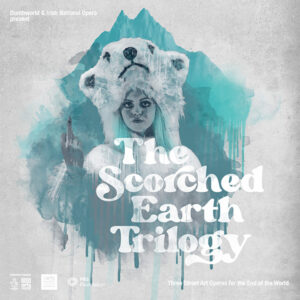 WON'T BRING BACK THE SNOW
Forced into the city by the disappearance of its natural habitat a father and daughter polar bear search through trash for something to eat. The daughter, however, has other ideas. Her follower numbers are growing – Tik Tok could be their way out of this misery. This little white ass, gonna pay for our dinner.
---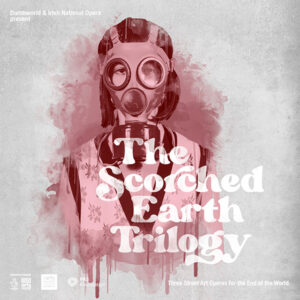 REVIVAL
 "There is no control and no all-powerful creator, either no more 'God' than man but there is care, scruple, cautiousness, attention, contemplation, hesitation and revival." Bruno Latour
Inspired by the writings of philosopher Bruno Latour. A wasteland. Burnt trees. Decaying rubbish. But children still play.  Revival presents a dystopian world of children forced to wear gas masks as they skip and swing. But these same children are at the heart of an ecological revolution planting seeds that grow into wondrous, colourful plants.
A co-production with Irish National Opera.
Download Isolde App
The Scorched Earth Trilogy is delivered with the support of Isolde, a groundbreaking new app that supports synced audio experiences. In order to access this experience, you will need the following:
– An Apple or Android Smartphone device with the following minimum Operating System versions:
– Wired or Bluetooth headphones
– Access to the Isolde app. You can access the app via the QR code below: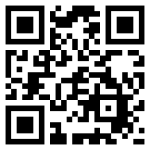 Isolde is currently in the beta testing phase of development.