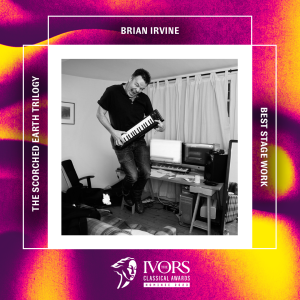 We are thrilled to finally share some exciting news with you!
Brian Irvine and John McIlduff's remarkable Street Art Opera The Scorched Earth Trilogy, has been honored with a nomination for the prestigious Ivor Novello Award in the category of Best Stage Work.
Dumbworld is bursting with joy and extends our heartfelt congratulations to Brian, John, and everyone who contributed their talents to this extraordinary production.
For more details on this nomination, please visit: https://ivorsacademy.com/awards/the-ivors-classical-awards
Don't miss the upcoming Ivors Classical Awards 2023, scheduled for Tuesday, November 14th, and set to be broadcast on BBC Radio 3 starting at 7:30 pm.
Here's a glimpse of the remarkable creative team behind this production:
Co-producer: Irish National Opera
Composer: Brian Irvine, Dumbworld
Writer/Director: John McIlduff, Dumbworld
Music Director/Conductor: Fergus Sheil, Irish National Opera
Designer: Katie Davenport
Costume Supervisor: Monica Ennis
Assistant Set Design/Props: Laura Fajardo
Hair and Make-up: Tee Elliot
DOP/Video Design: Conan McIvor
VFX: Enda O'Connor
Music Mastering: Michael Keeney
Producer: Susanna Lagan, Dumbworld
Production Coordinator: Lia Campbell, Dumbworld
Production Assistant: Cait Bird, Dumbworld
Singers: Doreen Curran, Francesco Giusti, Eamonn Mulhall, Owen Gilhooly, Brendan Collins, Megan O'Neill, Children's Chorus (The Independent Theatre Workshop)
We'd like to express our gratitude to the generous funders who made this production possible, including Arts Council Northern Ireland, Arts Council Ireland, PRS Foundation, Belfast City Council, and Fedora.
Stay tuned for the upcoming Ivors Classical Awards, and let's celebrate the incredible talent that brought 'The Scorched Earth Trilogy' to life.
Watch the full The Scorched Earth Trilogy trailer here.
Brian Irvine is one of three composers to receive two nominations, the other being Brian and Netia Jones' explosive Least Like The Other: Searching for Rosemary Kennedy produced by Irish National Opera.